Siyabonga Siyaphila Annual Jazz Picnic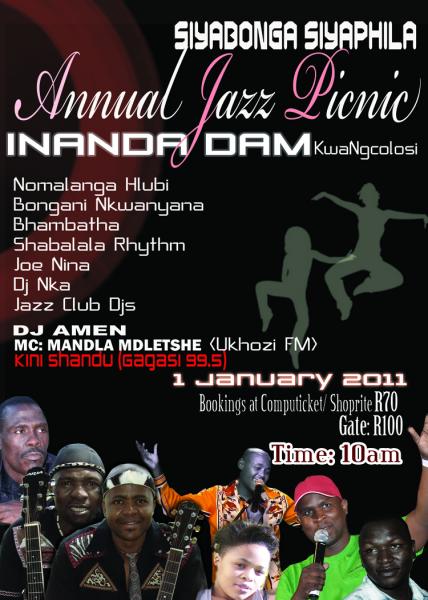 Siyabonga Siyaphila Annual Jazz Picnic is the Event that is going to happen every year on the 1st of January at Inanda Dam Kwangcolosi, INK area.
The INK area especially kwaMashu is Famous for wrong reasons and mostly for violent crime, killing, rape and Hijacks. The Siyabonga Siyaphila Jazz will lay a new foundation to create awareness about all these societal ills that spring to the fore most particularly during the festive period. It will create an opportunity for people to come together in a celebratory mood to strengthen societal and cultural relationships as well as family bonds whilst awareness is created about family values, self respect, drunken driving, drunken pedestrians and safe road usage.
The Siyabonga Siyaphila will also be perfect platform to highlights that perpetuate the AIDS problem in South Africa and ways to dumpen this HIV and AIDS scourge. These include but are not limited to sexual abuse, rape and refusal of men to wear condom.
The picnic will also enhance the Siyabonga Siyaphila Jazz and hospitality, and will reinforce the position as a tourist destination of note within the province as music lovers from all over the province will undoubtedly witness as they make their trip to and from the picnic.